Noticeably softer fabrics that last between washes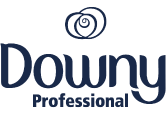 Be kind to your laundry—clean, soften, and prevent static cling.
Make clothes fluffy soft and April fresh with Downy. Downy provides outstanding fabric care that leaves clothes soft, fresh and static free.
On-Premise Laundry - Tide Professional Laundry System
Be the First to Hear About New Products and Offers!
©2022 P&G. All Rights Reserved.
For additional information call 1-800-332-7787
Call center hours 24/7, 365 days a year
Your digital warehouse for images, documents, videos, training and other PGPro resources. Get started