Eliminate odors at the source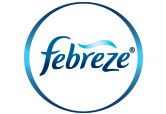 Eliminate Odour At the Source
Avoid cover-ups that only mask the problem. With Febreze® odour eliminators, unpleasant smells are gone for good. Using patented technology, Febreze Fabric Refreshers lock onto odours and eliminate them, so all your customers smell is clean.
Odour Elimination - Fabrics
Be the First to Hear About New Products and Offers!
©2022 P&G. All Rights Reserved.
For additional information call 1-800-332-7787
Call center hours 24/7, 365 days a year
Your digital warehouse for images, documents, videos, training and other PGPro resources. Get started